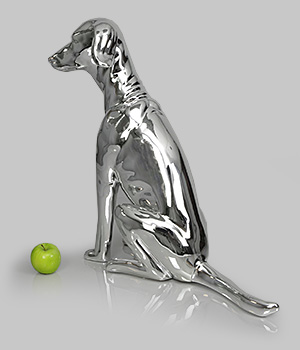 Doggequin has been conceived by a team of professionals with more than 10 years experience in the pet industry and retail sector. The concept began primarily through the frustration of being unable to achieve a products' true retail potential due to poor product display. An item of clothing or an accessory looks so much better when worn, rather than presented in packaging or on a hanger and it is for this reason we created a collection of dog & animal mannequins.
Our life size dog & animal mannequins enable manufacturers, distributors, wholesalers and retailers to effectively display their merchandise. Whether attending a trade show, building an image library or displaying product to the end consumer in a franchise store or pet boutique; the neutral appearance of our dog & animal mannequins, will maximise a products exposure and increase the sell-through rate.
The Doggequin collection currently consists of nine life-size dog mannequins from Chihuahua's to a Weimaraner. We are continually evolving the Doggequin dog & animal mannequin collection, adding new animal mannequins to our portfolio. We are also able to model and produce OEM products to customer's specific requirements.